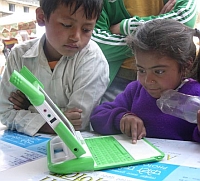 Are you excited about One Laptop Per Child's mission to expand educational experiences with technology? Do you want to hear what people in the field are doing? And will you be excited to mesh your new XO laptop with other G1G1 First Day Donors?
Then come join other XO enthusiasts for the first OLPC LC-DC meeting with a special guest, Bryan Berry, External Relations Manager, OLE Nepal.
Bryan will be giving us an overview of OLE Nepal's progress with its OLPC pilot in Nepal, and detail their evaluation plan, content development, and progress in creating One Laptop Per Nepali Child.
OLPC LC-DC Holiday Meetup
December 18, 7 PM
Mayorga Cafe & Lounge
3301 14th. St. NW (map)
Be sure to bring your enthusiasm, your commitment, and of course, you shiny green XO laptop.