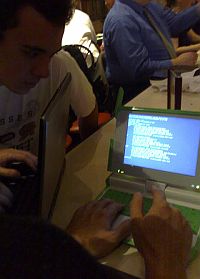 OLPC Learning Club – Washington, DC
A local user group of OLPC XO laptop and Sugar Learning Platform enthusiasts committed to co-learning, hacking, and expanding the One laptop Per Child computational experience community.
We meet monthly on the third Saturday from 10am-1pm at either the Arlington Career Center in Virginia or the Gallaudet University Student Academic Center. Our room locations do change, so please subscribe to the email list below for monthly announcements or visit the main web page.
OLPC LC/DC has three simple goals:
co-learning on the XO – be it with each other, our children, or other interested parties.
hacking the XO – add new activities, actions, and uses from Jonathan's software to case mods.
expanding the XO – both the concept of expanding its uses but also expanding its audience and uers
If you too believe that the One Laptop Per Child laptop, the Children's Machine XO is a revolution in education and technology, then please join us:
Let us spread education, one laptop at a time.
Just to be clear, OLPC Learning Club – Washington DC is independent from the One Laptop Per Child organization. It's a grassroots effort only.